Brand execution guidelines
Publishing video
ASU has partnered with YouTube to create a premium learning channel that we refer to as the ASU Brand YouTube channel. Below you will find guidelines to publish and optimize educational and inspirational videos on ASU-affiliated YouTube channels, making it more possible to reach vast audiences and boost affinity for ASU. 
Publishing platforms 
When deciding where to publish a video for use on asu.edu and its subdomains, consider the factors below: 
Should an audience be able to discover and interact with this video outside of asu.edu? If you're seeking organic search traffic for your video, you'll want to publish it on YouTube, which is the world's second largest search engine. If this video is intended for asu.edu web purposes only and does not need to be searchable, consider publishing this video to YouTube as "unlisted" or utilizing Vimeo.
Has the video already been published to another ASU YouTube channel? If so, consider linking to that video and do not reupload the same video to another channel. YouTube's algorithm punishes duplicate content.
Is all the music in this video licensed and able to be used on YouTube? Sites like Vimeo and YouTube will enforce their copyright policies when music is utilized on their platforms that is not verifiably licensed.
ASU YouTube publishing group
If you are an avid ASU YouTube publisher, please consider joining the YouTube Publishing Group, which meets quarterly to share learning and best practices for the platform. Contact the Brand team if you are interested in joining.
ASU Brand YouTube channel
Enterprise Brand Strategy and Management maintains the official ASU Brand YouTube channel on behalf of the university. This channel is designed to offer a premium YouTube experience and features content intended to increase the affinity for and perceptions of excellence for ASU. 
All videos posted to the official ASU Brand YouTube channel are reviewed and approved by Enterprise Brand Strategy and Management and must meet production quality, creative, content and posting best practices. If you can answer "yes" to the following questions, you may want to consider having the video published to the ASU Brand YouTube channel:
Does the video serve a broad enough audience? (The ASU Brand YouTube channel has more than 100,000 subscribers.)
Does the video exemplify both the ASU brand and high-quality video production?
Is it educational — would someone learn something by watching the video?
If yes to all three, contact the Brand team to discuss if the official ASU Brand YouTube channel is a good fit for your video.
Remember, YouTube's algorithm punishes duplicate content, so you would never want to publish the same video to more than one YouTube channel.
ASU unit-focused YouTube channels 
University units seeking to publish videos on YouTube or embed videos into their asu.edu subdomain may maintain a unit-focused channel. Before creating a channel, please consider the following questions:
What's the purpose of the channel?

Can the ASU Brand YouTube channel serve these needs?
What types of videos will live on the channel?

Will this new YouTube channel have public-facing or private videos?
How are videos performing on the unit's social media accounts?
Does the unit have the resources and content ideas needed to keep this channel active and running indefinitely while abiding by ASU's best practices? 

We do not recommend creating a YouTube channel to use solely as a video repository.

Does the unit have staff or students who are formally trained in video and graphic editing software and digital strategy? 

Unit-specific channels should reflect the ASU brand in high-quality thumbnails, end screens, captions and SEO considerations.

Who would be responsible for uploading and monitoring video content on the proposed YouTube channel?

 Do they have familiarity with copyright law, music licensing and FERPA guidelines?
 
Guidelines for maintaining an ASU unit-focused channel
Add the ASU Brand YouTube channel to your featured channel list.

Upload each video natively to just one channel (account). Do not directly post the exact same video on multiple channels. Posting the same video on different channels is not a YouTube best practice and will harm overall search performance. 
Add videos to your playlists. If you want your audience to see a video that's been posted on another ASU channel, here's how.

Note: The ASU Brand YouTube channel may amplify your video by including it in a university playlist. Videos must follow production quality, creative, content and posting best practices to be considered. Learn more.
Embedding YouTube videos on asu.edu
Follow these steps to embed your YouTube video on an asu.edu website:
On the bottom right-hand corner of the videos, click the "share" button.
Click the "embed" button.
Click out of "Show suggested videos with the video finishes." (You can also manually add the following code: rel=0")
Always have "Show player controls" selected — this is the only way to view closed captions on an embedded video.

To automatically turn the captions on for a YouTube video, add "cc_load_policy=1" to the embed code and they'll be turned on by default. Note: A user can choose to turn them off. 

Grab the embed code, and add that phrase:
<iframe width="560" height="315" src="https://www.youtube.com/embed/IYxCmqMjriI?cc_load_policy=1;rel=0&showinfo=0" frameborder="0" allow="autoplay; encrypted-media" allowfullscreen>
ASU video publishing standards
Titles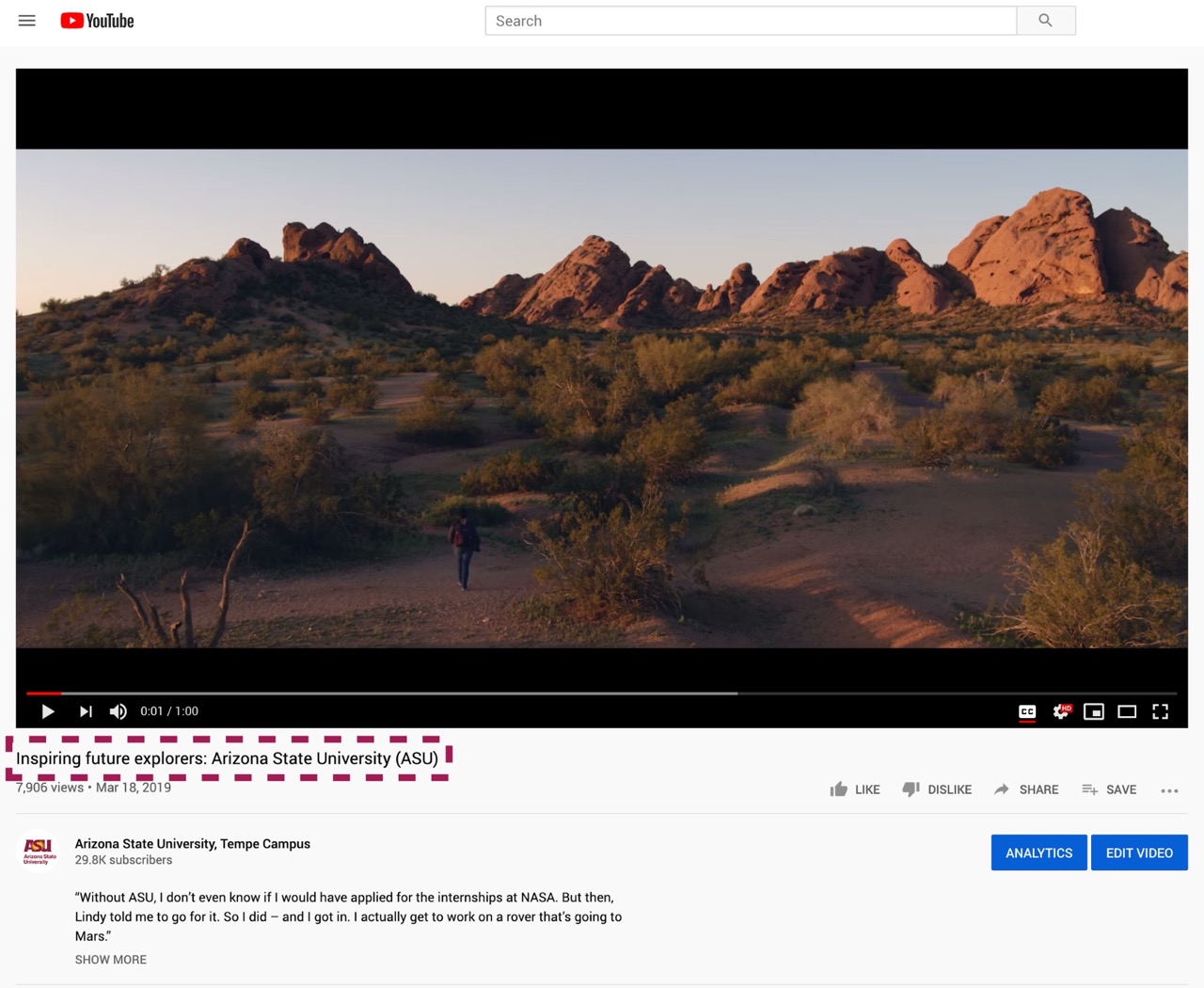 Titles are key for users to discover and watch your content. Titles need to include search-optimized keywords and help the viewer quickly understand what the video is about. Use keywords in a natural way that either pose or answer a question. Do not try to trick the viewer; the title should be an accurate reflection of the video's content.
View the Brand team's Basic SEO Guidelines and YouTube Optimization Guidelines for more detailed information.
Video titles on YouTube must be no more than 100 characters, and should use title casing per AP style (composition titles).
Example titles:
Building Connections Through the LEAD Program at ASU.
Highlights from Spring 2021 Convocation Ceremonies.
Get to Know ASU Provost Nancy Gonzales.
It is recommended that the units include their shortened or full-length college or unit name and the ASU acronym at the end of the title.
| | |
| --- | --- |
| Title example using unit name and ASU | What Is Digital Culture?: ASU Herberger Institute (50 characters, including spaces) |
If a video is part of a series with a regular publishing cadence (recommended), the title should follow a prescribed formula:
Category

Description

Series title

Example

How Do College Students Keep Cool During the Summer?

You Asked

Final title example (Character limitations: 400 character limit)

How Do College Students Keep Cool During the Summer?: You Asked

 
Pay attention to your first 44 characters. They are the initial characters that will show in the browsing display. Examples:

 
Optimize video titles for search:

Include long-tail keywords (three and four keyword phrases): "Admission process guide: Arizona State University."
Phrase titles like a question: "How do you get started with applying to college: Arizona State University," "How to apply to ASU."
Phrase titles like a case study: "How ASU made applying to college easier: Arizona State University" or "How college students keep cool during the summer: Arizona State University."
Include numbers and tips: "10 tips from admissions advisors on how to apply to college: Arizona State University."
 
You can add up to 5,000 characters to your video description. The video description helps draw viewers to watch your videos and helps YouTube and Google algorithms discover your content. 
Tips to optimize your descriptions:
Pay attention to the first 150 characters — they're crucial. They are what will be initially displayed to your viewers and need to capture the essence of the video.
Use SEO best practices. Ensure the description of each video has relevant keywords that support SEO strategy for discoverability. Keywords should be used in a naturally spoken way. Avoid adding excessive keywords where they should not be used in an effort to increase clicks and views, also known as "keyword stuffing."
Invite the viewer to learn more. Include references to playlists, helpful websites and social media channels in the description for the viewers to learn more about your brand.
Remember to include your department name. Department terms should be incorporated into the video description for SEO.
 
Using highly searched tags are important to YouTube. Use SEO keywords as tags to aid in discoverability. Tags can be a single word, but the best tag length for YouTube is two to three words [Briggsby]. 
For ASU, a well-composed video title that is keyword-rich can be broken down and used as long-tail keyword tags (phrases composed of two to three keywords). Tags should be specific and focused on the topic. The optimal number of tags is between 10 to 15 tags with a mix of moderate-length phrases and one to two words. 
The following ASU brand terms should be included as tags (at minimum):
Arizona State University.
ASU.
 
Think of the YouTube thumbnail as the new book cover. The more engaging and interesting it looks, the more likely a viewer is to click and watch your content. It should clearly convey a quick idea of what they'll be getting in your video. 
Keep in mind when creating your thumbnail:
Emotion and up-close visuals perform better. Images that are compelling and that are easy to understand on small screens perform better than crowd or abstract visuals. Close-ups on faces, with authentic emotion, preferably making eye contact, will perform.
Be bold, show gold. We are fortunate because bright yellows outperform other colors on YouTube. Using ASU Gold will help your videos stand out from others as well as convey the ASU brand.
Include an ASU logo. A small logo or watermark quickly signals the video is from a trusted source and increases the likelihood to click.
Include three to four words in the thumbnail. Do not repeat the title of the video in the thumbnail. Make it a bold and easy to read statement.
Design for the smallest screen. Many of the impressions you will receive will be from a mobile device — the related videos column or the homepage feed, all of which have a small dimension.
Avoid the lower right-hand corner. YouTube often covers the lower right corner with a timestamp or watch later button. Important images or information are likely to be hidden from viewers.
Consistency counts. Establishing a consistent thumbnail design that includes a color palette, layout, fonts and other elements improves recall and recognition.

Please note that all videos placed on the Premium ASU YouTube channel are now required to use a standardized thumbnail. Download the template from Dropbox. Channels affiliated with ASU are encouraged to create their own template based on the guidelines outlined in this section.
Accurately portray the content of the video. No surprises — viewers will expect to see what was promoted in the thumbnail also in the video. For low-lift imagery, use a screen grab from your video that aligns with the above guidelines. For the most impact, consider what your thumbnail image can be during preproduction and intentionally take photos during production. Stock images can be used, however it is not recommended as a regular practice.
Thumbnails should be of high quality and not pixelated. Dimensions should be 1280 x 720 or 1920 x 1080 and the final artwork is formatted as a .png or .jpg. Make sure your final file is less than 2MB in order to be able to upload to YouTube.
Include captions in videos. Eighty percent of videos are watched without sound, and university accessibility requirements require videos to be captioned. Videos should not have captions burned-in or added to the video before uploading to YouTube. Having accurate closed captions is key because YouTube indexes the dialogue in videos to aid with search and meets ASU accessibility guidelines.
Tool recommendations to help you quickly and accurately caption your videos:
The Brand team prefers using captioning services for advanced features and improved accuracy. We recommend Rev and Temi as reliable and affordable options.
YouTube will automatically generate closed-captioning for videos (but they'll need to be reviewed for accuracy — be sure to allow for the time to do so). Learn how to caption videos on YouTube.
If you are producing a video for an event where you cannot play the video directly from YouTube, the captions can be embedded using a video editing program.

Your video should follow the YouTube formatting standard for captions: 

Font: Arial.
Font size: at least 48pt.


Remember: Although there are great services out there, proofreading is still a vital step.
Unlike other social networks, shorter is not sweeter on YouTube. Videos that are longer than four minutes are more positively received by viewers. Watch time is a key metric that YouTube uses to determine the value of an individual video and the channel as a whole. Learn more about YouTube analytics.
 
Adding video end screens to your YouTube uploads encourages a viewer to continue engaging with your channel content. End every ASU video with the ASU bug in the center of the screen, followed by five to 20 seconds of padding on every video. This allows for suggested videos and a subscribe button to be added on YouTube. Learn how to add an end screen with ASU's End Screen Lookbook or YouTube's guidelines. Download the ASU end screen template for videos appearing on the ASU Brand YouTube channel.
 
See Graphics for video.
You may also be interested in