Brand execution guidelines
Photography and video standards and guidelines
Photography and video are core elements of the brand as they convey emotion and connection along with key excellence markers. Certain imagery can support affinity building and increase positive responses and engagement from audiences. By intentionally aligning imagery production and postproduction with university brand standards, units can aim to maximize the impact of any visual for wide-ranging purposes.
ASU photography and video
Arizona State University is developing photography and video that shows the dynamic lives of our lifelong learners, degree-seeking students, alumni and community in a unified way to help people near and far visualize the magic of ASU.
Our creative assets show vibrancy, diversity and excellence through visuals of learners, faculty and alumni from many backgrounds engaging in wide-ranging activities. 
Our creative is most brand-aligned when in full color. Black and white or heavily stylized color grading, placing gradients on top of photos or video is not recommended.
Our ASU brand values are reflected in the visuals chosen for our brand libraries.
We transcend boundaries.
We are courageous, embracing the risk of our ambitions.
We are visionary, scaling our commitments to a world that needs big ideas and bold action.
We are optimistic, seeing the world for what it is and what it can be.
We have the strength in numbers to effect meaningful change.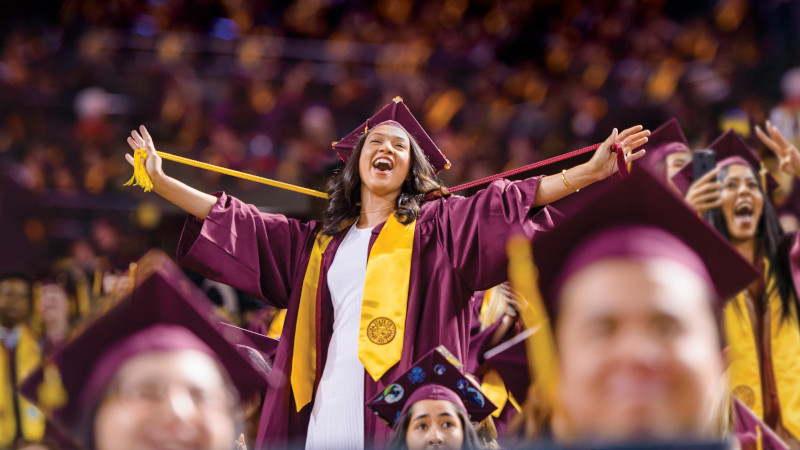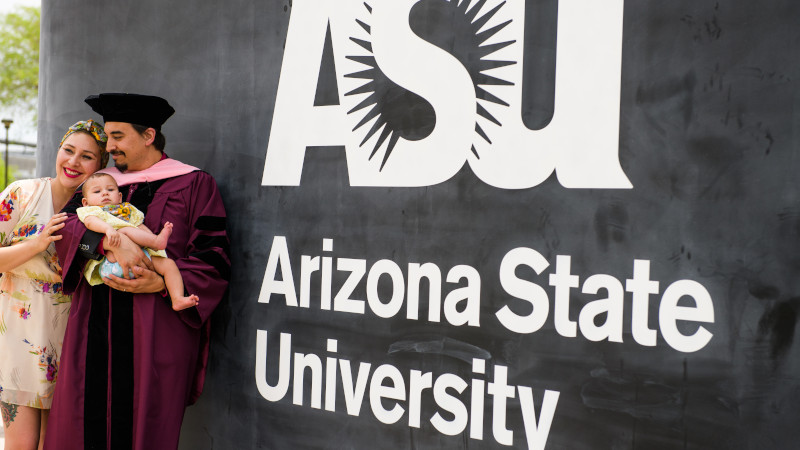 Academic
Testing of ASU brand creative over time has shown that some of our most powerful visuals show graduation. Including these moments of excellence — graduates wearing caps, gowns, stoles, honor cords and medals — marks a pivotal moment for the individual to display sincere emotion that shows the success, self-fulfillment, and friend and family joy that earning a degree at ASU rewards. 
Additional excellence markers
When activity includes our key partners and stakeholders, visuals that include ASU brand elements and partner brand elements naturally in the background reinforce the strength of ASU's partnerships.
From hands-on demonstrations at public science events to art performances to football tailgates, there are many ways for Sun Devils and ASU community members to come together as we all learn to thrive. Capturing these activities through well-planned and thoughtful coverage elevates these experiences in our communications materials and reinforces the invitation to join.
Examples of the ASU brand in photography and video
You may also be interested in