ASU Events Calendar
ASU Events is the university's official events calendar and the No. 1 source for people to find events offered by ASU. The platform allows you to:
Easily promote your event both universitywide and to the public — ASU Events is visited by more than 400,000 people each year.

Be featured on the

ASU Events website

and event feeds across asu.edu and its subsites, including

My ASU

.

Get exposure to 500,000+ users through the ASU Mobile App.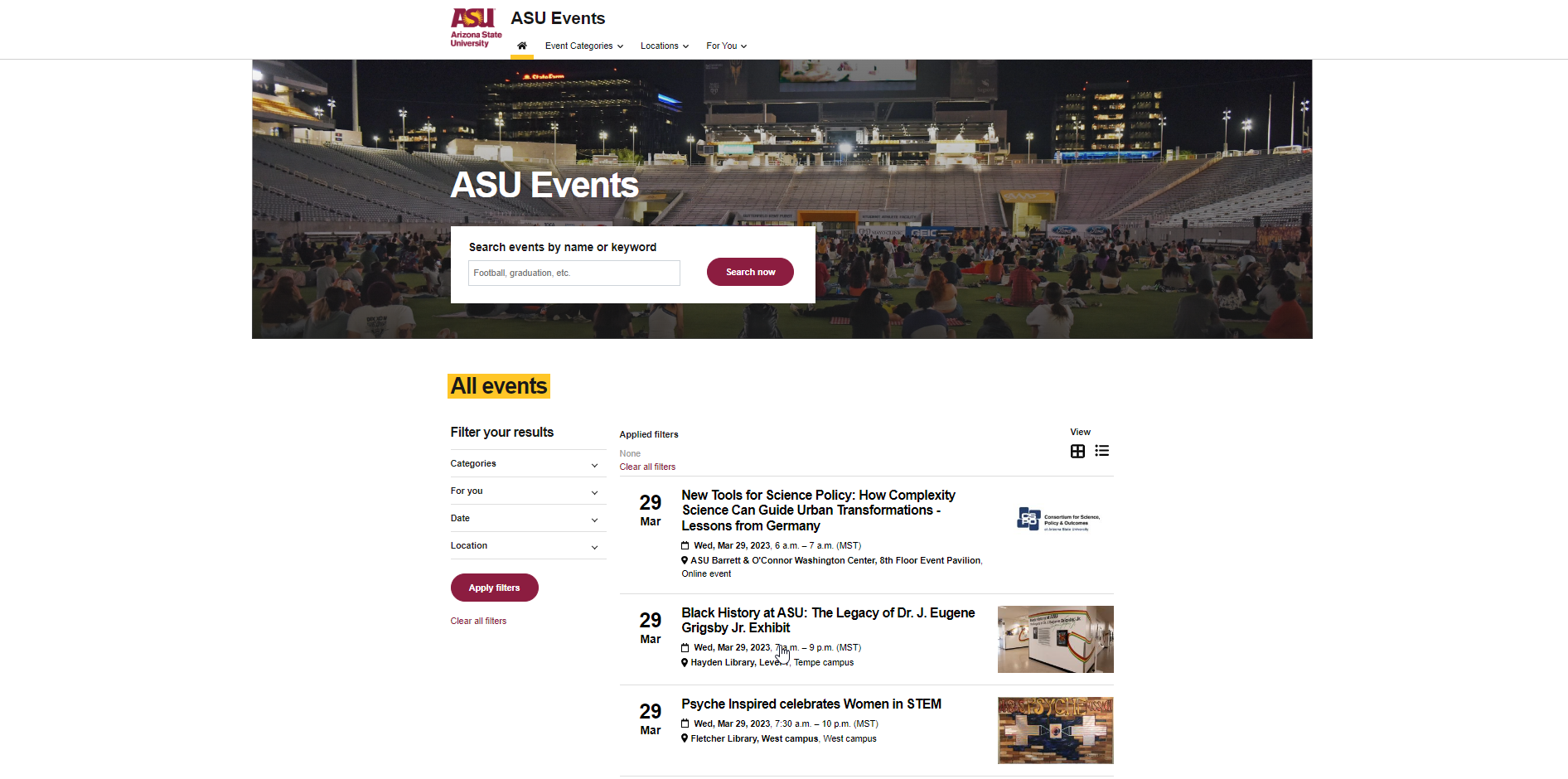 Events may be submitted to the calendar by users who have been provided login access to the ASU Events system.  
Most departments have someone with access to add events into the system for review.

For one-off event needs, please direct event submissions through that person. See

the list of recently active users

to see if someone in your unit is listed.

Need access to add and edit events directly?  

 





Request access





Please note: We will reach out to the lead communicator for your unit to verify if additional access is required.

If you don't know who to connect with or

you have questions, please inquire at our

#asuevents-user-community Slack channel

, or email

events@asu.edu

.
Events typically take one to two business days to be published once submitted, and an additional day to appear on secondary event feeds across asu.edu.

Enter your event as early as possible to maximize visibility with the ASU community.

Including a relevant, high-quality photo makes it more likely to be promoted by other units.

The ASU Events platform uses Arizona time — Mountain Standard Time (MST), so please adjust accordingly if the event takes place in a different time zone.

Submissions are reviewed for AP style, the writing style adopted by ASU for all communications. To help expedite approval, please draft event copy so it aligns with the

ASU writing style guide

.
ASU Events training is available to register for and access via CareerEdge.
For additional tips and training on adding events, please review the ASU Events user guide (how-to guide).
Failure to follow the guidelines may result in publication delays.