Email signature generator
To maintain and share a professional and consistent email signature across the university, an easy-to-use signature generator has been developed by the ASU Print and Imaging Lab. It offers tips readers will appreciate, such as not adding graphics to your signature, as these appear to smartphone users as attachments that must be downloaded.
The Print and Imaging Lab's generator will configure your information into ASU's recommended standardized email signature format. 
 
Create or update your email signature
Example Signatures: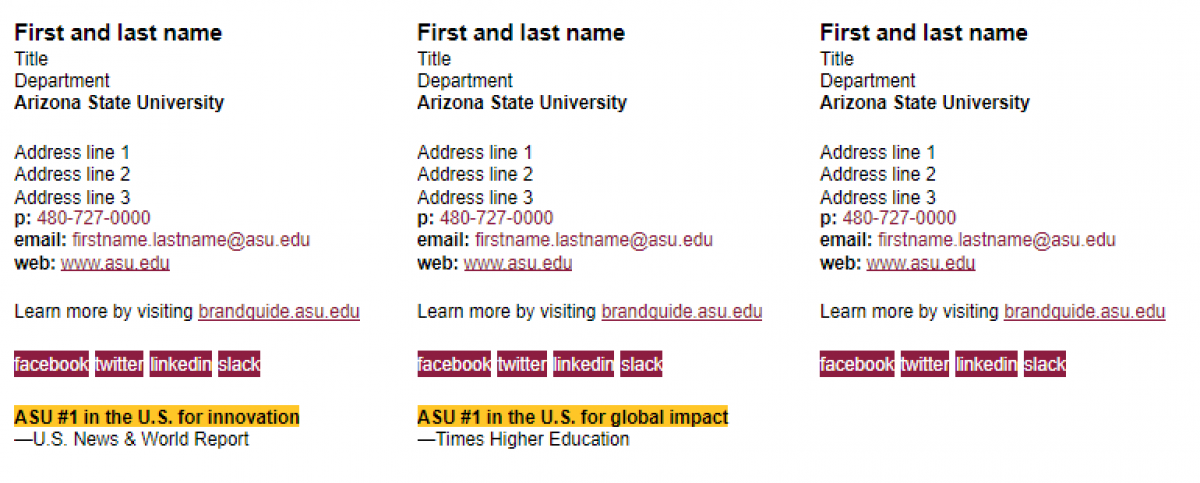 Instructions for Windows:
In Outlook, click on the File tab.
Click Options.
Click Mail.
Click Signatures.
Click New and paste your signature.
Click OK.
Instructions for Mac:
Click Outlook in the upper left corner of your desktop window.
Click on Preferences.
Click on Signatures.
In the bottom left corner, click +
Paste signature in the box. (It should be labeled Standard and the check box should be checked.) Close the window. The signature should now appear automatically on your email.