December 2022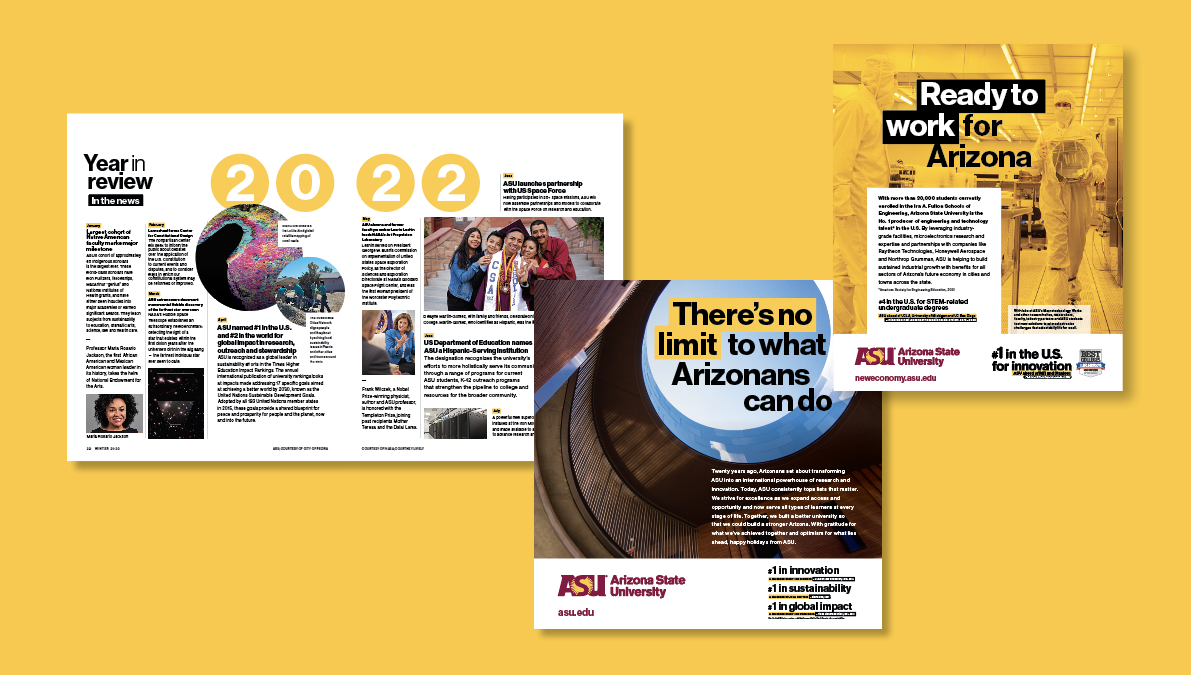 While many of you are aware of the enterprisewide brand campaign, others are new to our marketing and communications community at ASU.
So, let's close out 2022 with a warm beverage and a chat about the campaign that represents ASU as a whole.
How does the ASU campaign come to fruition each year? The campaign is developed by testing ASU brand platform messaging and enterprise priorities to reach Arizona and Southern California audiences.
To capitalize on the Super Bowl being hosted in Arizona in early 2023, we launched the campaign's first phase this past fall. We are reaching the pinnacle of the advertising campaign, and the largest portion of our investment will be live from January through May.
Whew — that overview might be blowing your hair back. If you need a refresher on the brand platform (log in to review) that influences all the creative, take a moment to check it out and then join us when you are ready.
No rush.
We'll wait.
Ready? Let's dive in!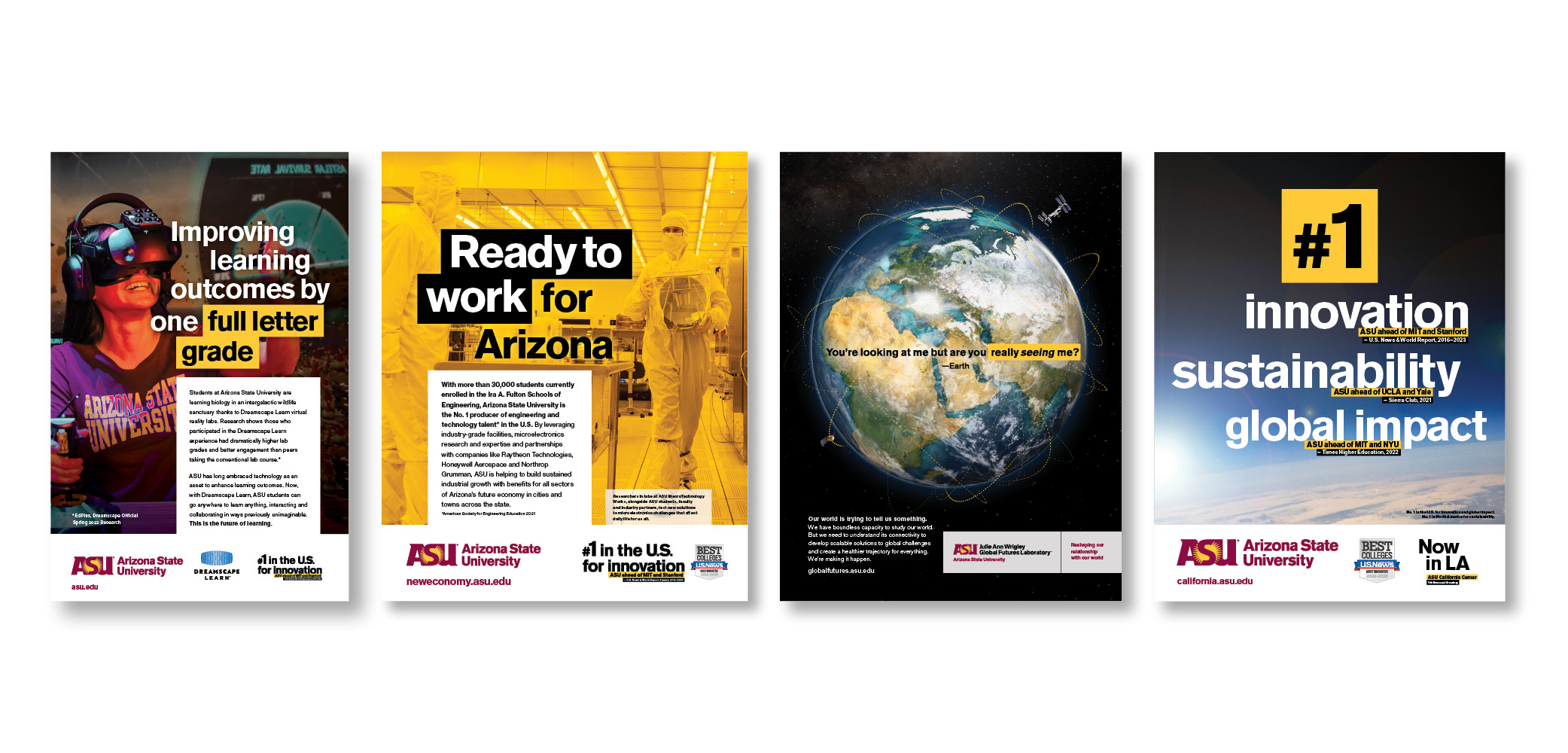 We are building on what ASU has become known for – innovation – to promote the fact that ASU is repeatedly ranked No. 1 in areas that matter. This allows us to introduce a broader set of No. 1 rankings to advance positive perceptions of the university further.
We will be regularly promoting the following rankings:
We will also be integrating a limited number of proof points, perceived as unique to ASU, to further demonstrate innovation to our core audiences.
 Innovation proof points: 
Dreamscape Learn brings together the most visionary minds in education and Hollywood storytelling helping learners access material that was not previously available.
New Economy Initiative focuses on the scale of ASU engineering education, ongoing education beyond degrees and groundbreaking research to help drive economic growth in Arizona.
Top 10 in the world for patents — ASU's leadership in patents in the U.S. impacts the communities we serve.
 Global impact and sustainability: 
 20th anniversary of the New American University 
This holiday specific messaging supports the overarching campaign by highlighting the positive impact ASU has had on the state of Arizona over the last 20 years.
Nice right? It's how we innovate! (see what we did there?) Itching to get your hands on all the creative you can?
Scavenger hunters, rejoice!
Below is your road map:
 Channels and timeline 
January–February: television, digital out-of-home ads and select print in the Phoenix DMA.
January–March: digital video, radio.
January–April: our first 3D out-of-home billboard in downtown Phoenix, light rail.
January–May: New Economy Initiative messaging in major market Arizona newspapers, AZ Central-sponsored content, business print, Arizona Capitol Times and KTAR/KFYI radio and paid social media.
Looking for more? Head West, young person! Check out the California brand campaign highlighting excellence markers and the ASU California Center in local LA newspapers, light rail signage, digital video, high-impact digital out-of-home and television.
To highlight Global Futures Laboratory as a proof point of excellence, innovation and a catalyst for a better world, we are collaborating with national publications like Scientific American, Smithsonian, The Economist and Nautilus.
Our collective efforts in fine-tuning our orchestra of storytellers bring life and power to the campaign; so cheers to another year highlighting our learners, research and the resulting innovation.
The ASU Year in review is now in production. Preorder now to receive yours for free.