August 2022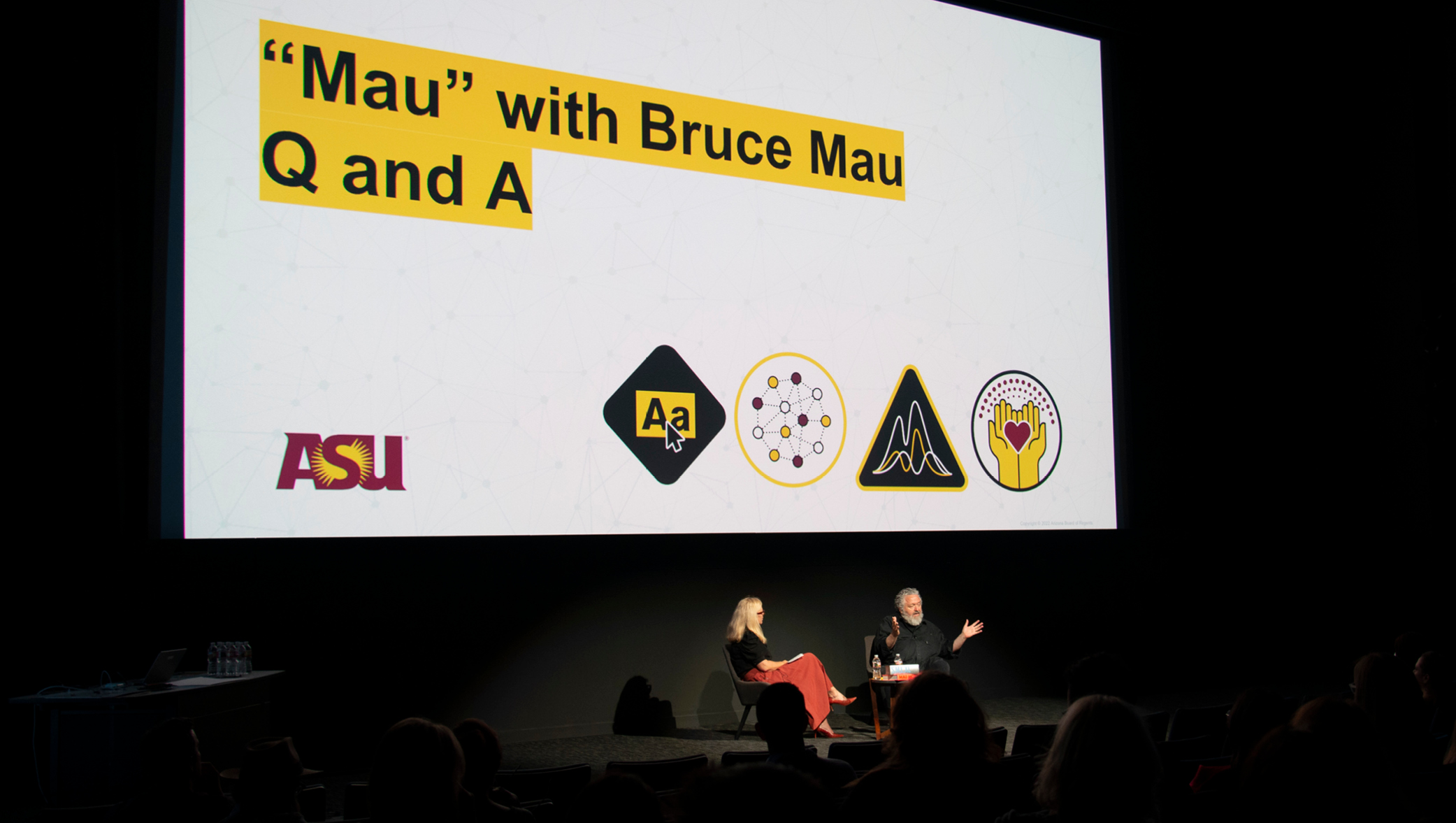 Summer Camp 2022 and future learning
Nearly 600 participants came together to learn and share in 50-plus sessions — welcoming special guests, university leaders and colleagues universitywide. 
In-person attendees also had the unique opportunity to visit some of ASU's newest spaces, the Julie Ann Wrigley Global Futures Laboratory and the ASU MIX Center. 
Camp by the numbers:
2,650 minutes of learning and growing together.
589 attendees (a record breaking year!).
94 speakers and contributors.
99% of attendees would recommend attending camp.
53 sessions.
40+ units represented.
4 out of 5 average session rating.
While camp may be over for 2022, you can keep honing and expanding your skills year-round. 
Explore camp camp sessions past and present: Many of this year's session recordings have already been added  to Career EDGE and we're adding more as you read this. Catch up on sessions you missed this year or revisit sessions you found interesting. (You can also check out sessions from past years in the meantime.)
Upskill all year with ASU Marketing Academy: Check the calendar for upcoming Marketing Academy workshops.
Keep your brand booklet nearby: If you attended camp virtually, you'll receive your ASU® calendar and ASU Brand Guide at a Glance booklet via interoffice mail. If you didn't attend camp, you can order one through the Print and Imaging Lab. 
And of course, save the date for Summer Camp 2023, July 10–14. We'll see you there!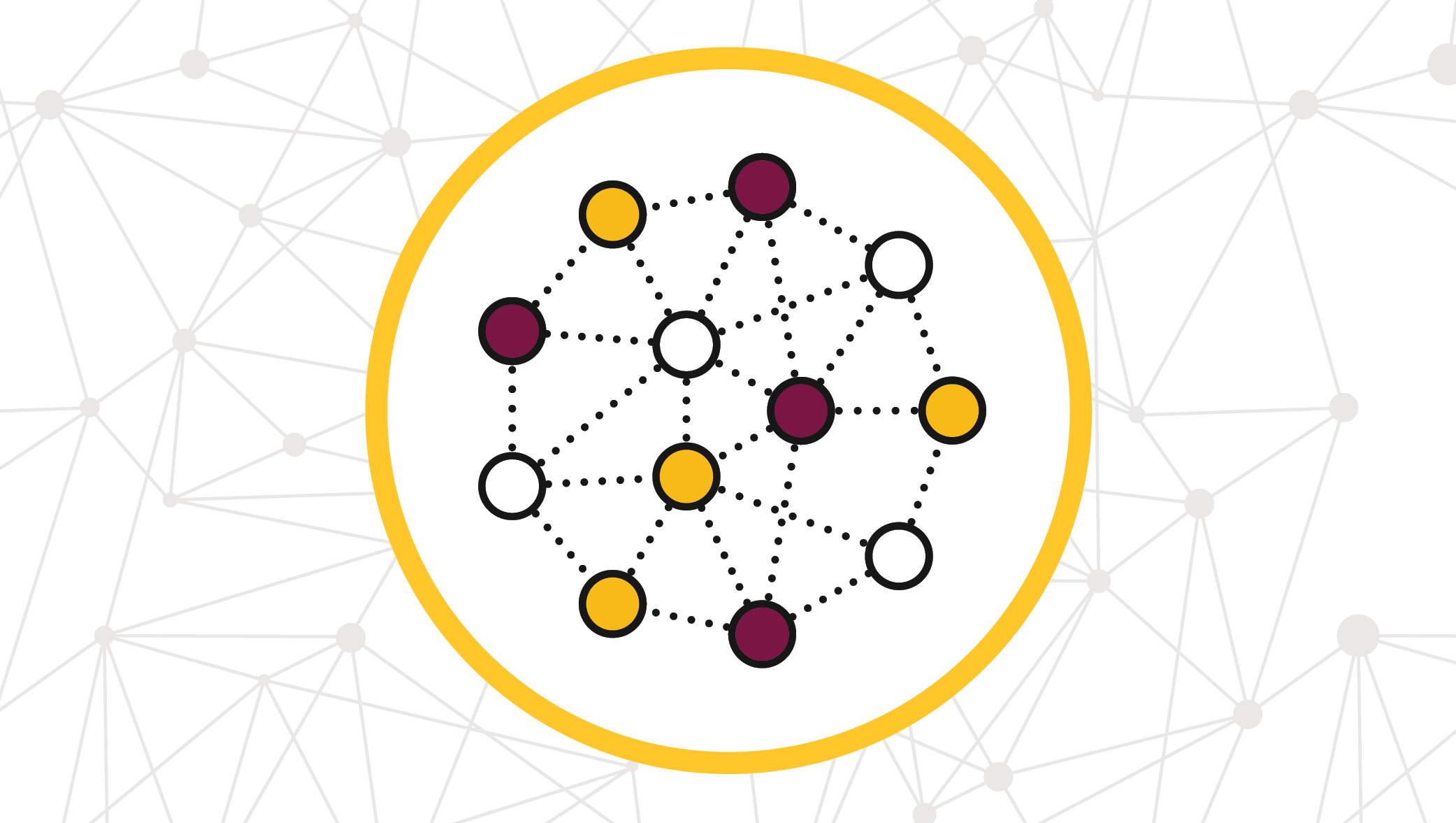 Growing our ecosystem to support ASU needs
ASU is home to a thriving community of more than 1,000 marketers and communicators who are dedicated to building awareness, positive perceptions and engagement for ASU. As a public enterprise, we continue to evolve, expanding and diversifying ASU's marketing and communications portfolio. ASU has activated the following units to further build upon their unique strengths while honing in on new areas of focus and services.
Increasing the  focus on brand positioning and orchestration:
Enterprise Brand Strategy and Management Formerly known as the Enterprise Marketing Hub, Enterprise Brand Strategy and Management is responsible for orchestrating efforts to position ASU as a premium brand. Led by Vice President and Chief Brand Officer Jill Andrews, the brand team focuses on:
Establishing the brand fundamentals to increase the long-term strength of the brand.
Convening and training the ASU professional community in order to align efforts, share best practices and implement a comprehensive brand portfolio strategy.
Raising awareness and positive perception of the brand through multichannel campaigns using paid advertising, owned channels such as asu.edu and social media, and the official magazine of Arizona State University, Arizona's largest magazine, ASU Thrive.
Intensifying ASU's media outreach and strategic communications:
Media Relations and Strategic Communications Operating as ASU's "in-house PR firm" and internal newsroom, Media Relations and Strategic Communications is led by Associate Vice President Chris Fiscus. The team focuses on:
Generating and covering breaking news through the efforts of a robust internal newsroom. 
Managing relationships with local, national and international media outlets.
Spearheading presidential communications.
Generating unique and compelling creative for news and social media efforts.
Leading local, national and global strategic communications efforts.
Launching a more holistic approach to constituent outreach:
ASU Outreach Hub A new unit has been created to focus on ASU's growing outreach and transactional needs. Led by Chief Outreach Officer Ann Toca, the ASU Outreach Hub uses data-driven insights to deliver three pillars of services to the community:
Working with units to plan and place paid media for all budget levels and media types.
Creating holistic alumni and donor outreach by activating highly personalized omnichannel journeys and utilizing the Sun Devil Rewards affinity platform to reach engagement and affinity goals.
Extending and expanding corporate partnerships on ASU's behalf.
Growing ASU's multifaceted content pipeline through journalism:
ASU Media Enterprise ASU Media Enterprise is an independent nonprofit, nonpartisan knowledge community that empowers, engages and educates audiences with the information they need to succeed as leaders and equal participants in our democracy. Led by Managing Director Mi-Ai Parrish, the nonprofit has become an accelerator for transmedia storytelling by: 
Growing individual media outlets within the portfolio to be the best versions of themselves while creating appropriate journalistic opportunities to broaden the reach of the ASU brand.
Collaborating as a collective to create a robust content pipeline that brings story themes to a national scale.
Creating partnerships with external media outlets to expand the reach of stories that improve the economic, social, cultural and overall health of the people and communities that we serve.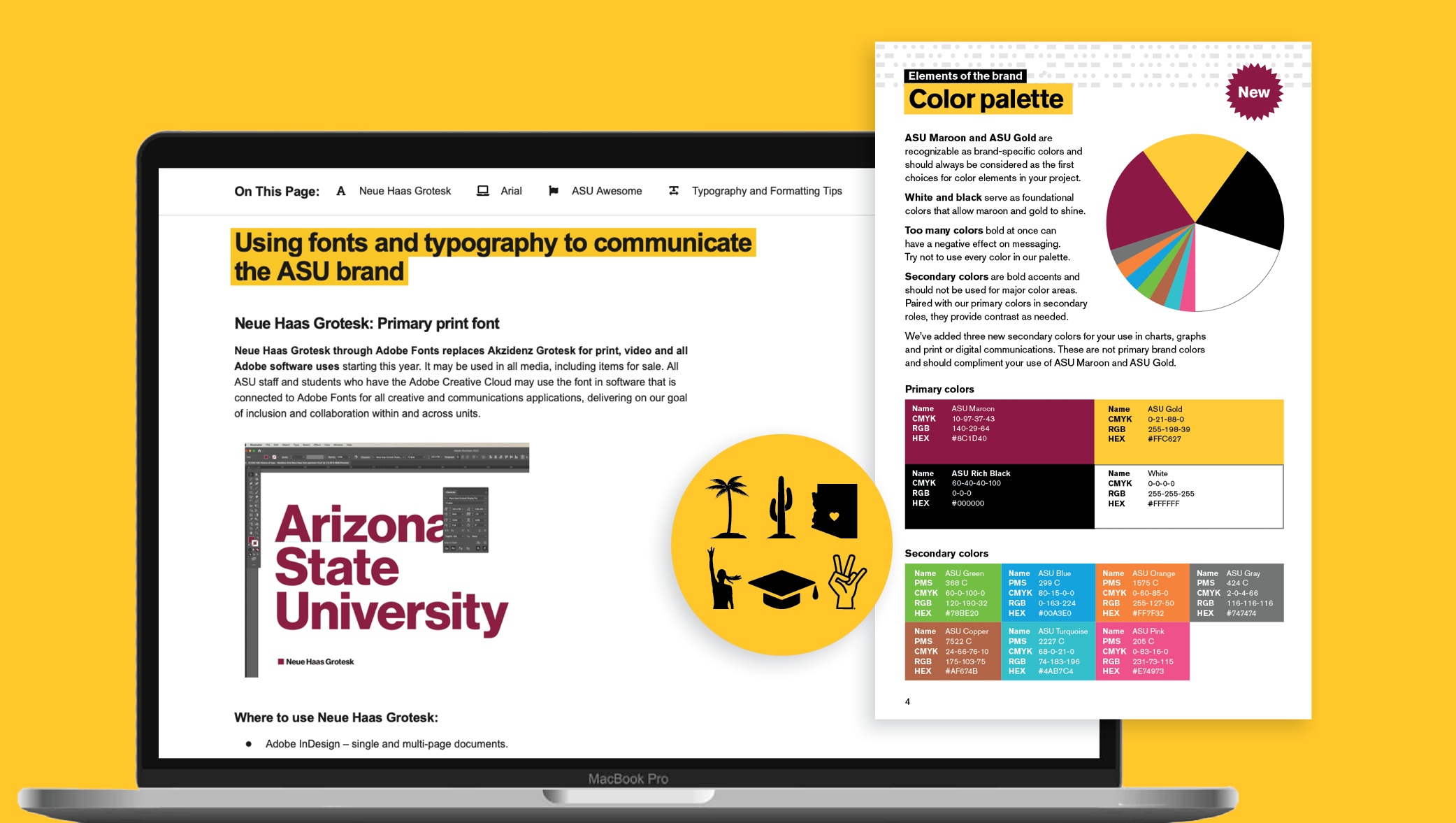 Introducing new visual elements for an evolving brand
As ASU redefines the public research university as a knowledge enterprise dedicated to academic excellence, global impact and expansive access to higher education, the Brand team is expanding ASU's visual language to share ASU's stories with boldness and authenticity. Collaborating with the design community, the Brand team has researched, tested and released new creative solutions, including an expanded color palette and new fonts. 
Check out the new fonts  See more on fonts and colors  Deep dive on color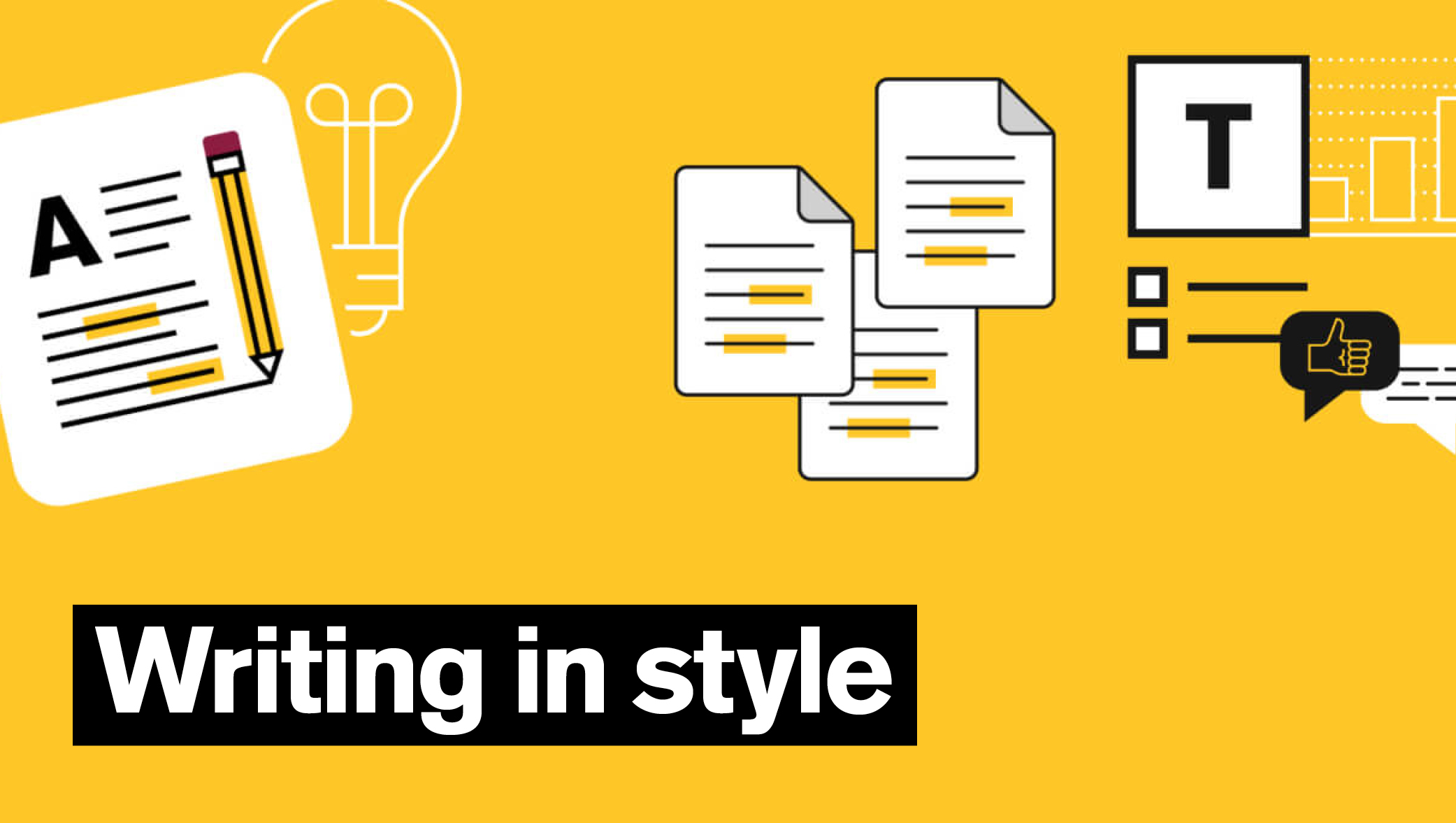 Writing style guide refresh
As part of the ASU brand guide, the writing style guide is maintained by the Brand team as a definitive resource for composition in university communications. 
Here's how we've updated this area:
Revised page structure and formatting of information for clarity and consistency throughout the guide (so it's easier for you to read, understand and use).
Introduced a new section titled ASU locations, campuses, buildings and units that now includes ASU Local. All location-based information can now be found on this page.
A new Academic programs, degrees, courses and tests section.
A new Language and tone page.
More do's and don't examples along with clear formatting to more quickly identify which is which.
A streamlined ASU word list. Moving forward, you can reference this list for ASU-related words. For variations to AP style or other common questions, you'll find a link to the appropriate section of the writing style guide. (No more duplicate information! This way, every answer is in one place.)
Revised ASU boilerplate text to include new places of interest on ASU campuses.
Included a list of common acronyms and initialisms in Abbreviations and acronyms (and how to use them and tell the difference between them).
Clarified the use of dates and seasons in the Times, days, months, seasons, yearssection.
When writing ASU communications, it's a good practice to regularly check and refer to the writing style guide. If you don't see what you're looking for, check the The Associated Press Stylebook (you can also sign up for the e-newsletter) and Webster's New World College Dictionary, Fifth Edition. 
If you believe you've identified a valuable addition to this writing style guide, please contact the Brand team at asubrand@asu.edu with your suggestion.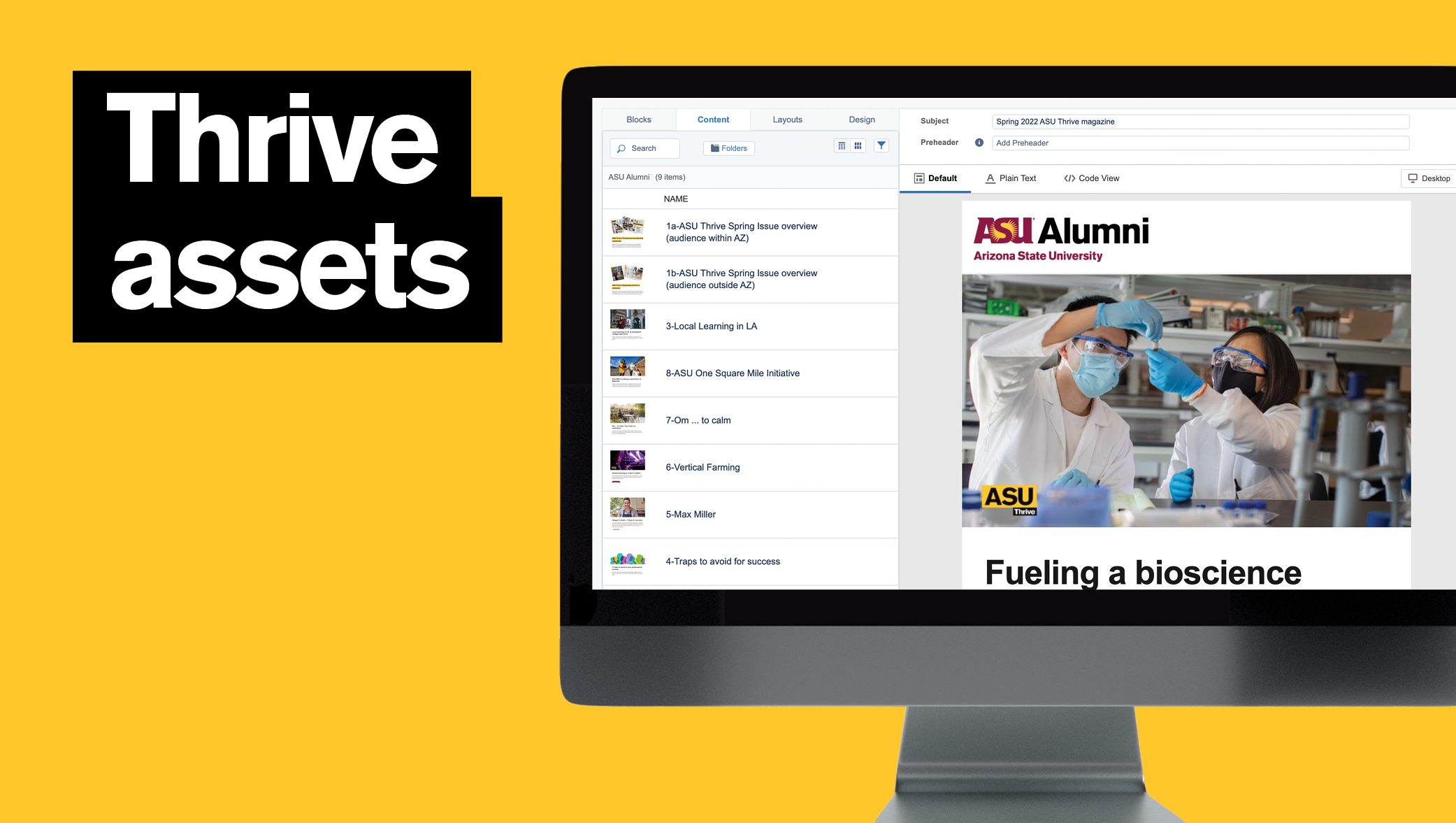 Thrive assets: Made by many, ready for everyone
Thank you to the communicators and marketers across ASU who share content included in ASU Thrive magazine. Did you know you can feature the same content in your channels as well?
Magazine stories posted on ASU News can be shared in editorial contexts, and most stories and photos can be shared in any context, including marketing and advertising.
Magazine story email blocks are available in Salesforce Marketing Cloud for inclusion in your emails and many of the photos are available in brand galleries. 
Designs from the magazine can be requested by email for repurposing or reprinting.
Free copies to hand out are available to share with your audiences. The Print and Imaging Lab maintains stock of past issues and the Year in review with highlights of excellence. Delivery is free to campus locations. Set up an account for easy ordering.
We look forward to seeing how you share stories of excellence with your audiences!
Access Thrive photos   Request Thrive designs  Order copies of Thrive for delivery