July 2022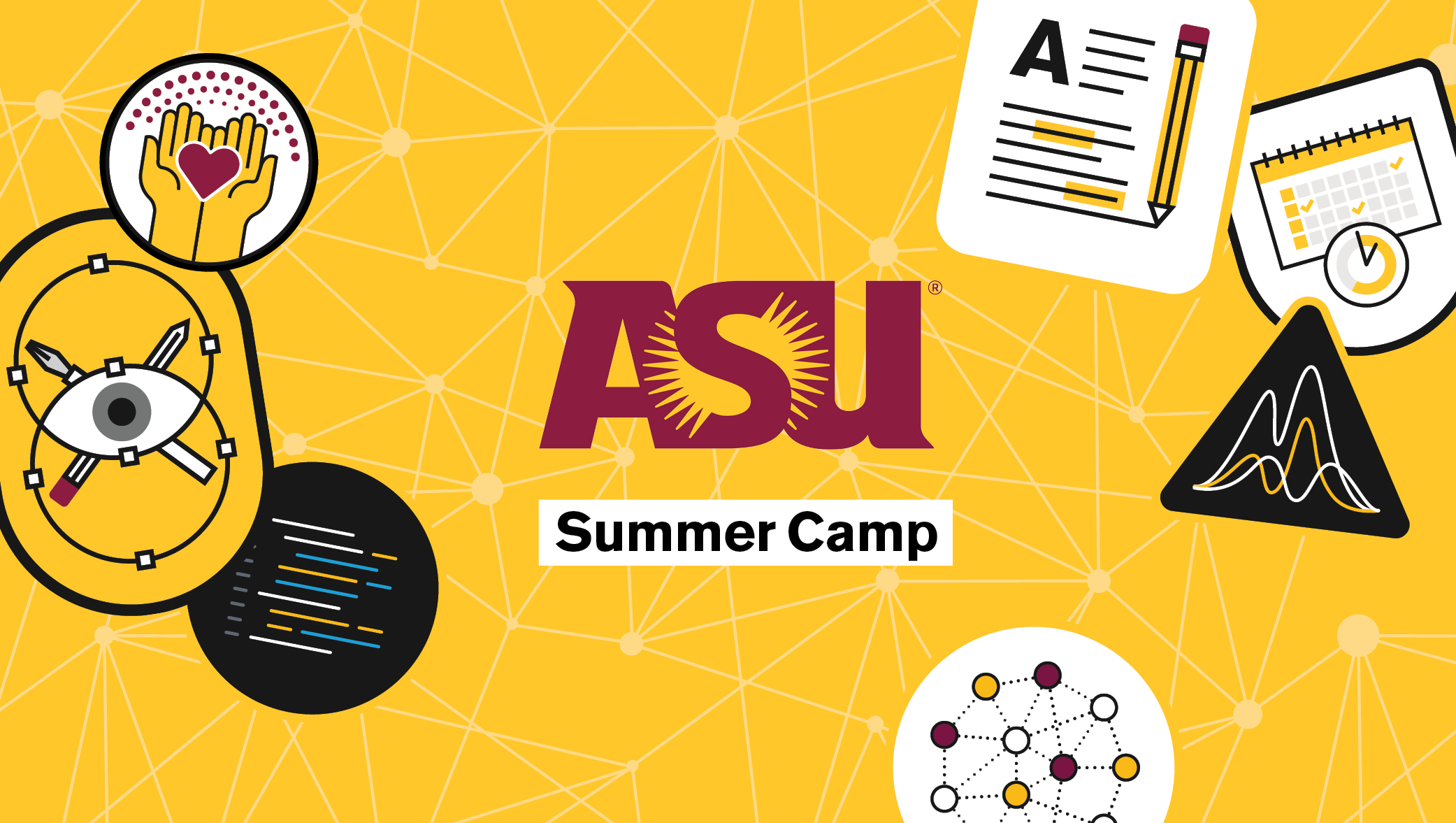 Everything you need to know for a successful Summer Camp
More than 500 of you have registered for Summer Camp so far and we can't wait to see you there! (And if you haven't, register now.)
In the days leading up, use this precamp checklist to ensure you're making the most of your time.
1. Set your agenda
Even if you have registered, please double-check that you've also selected the sessions you'll be attending. 
Follow these steps: 
Visit your registration page and select " Set agenda/Modify registration."
Enter your credentials.
Select the sessions you want to attend. 
Save your registration.
Don't miss your chance to attend these unique sessions:
It's all brand to me
Monday, July 18, 10–10:50 a.m.
ASU has emerged as a different kind of university — one that serves learners at every stage of life. As ASU evolves in the future, how will the ASU brand evolve as well? In this session, you'll be hearing from ASU leaders and special guest Maria Anguiano, executive vice president of ASU Learning Enterprise. 
As the foundation for all ASU communications, the brand platform stays true to what is relevant and compelling to our growing audiences. Learn what's new as the ASU Enterprise expands to reach more learners and constituencies. Discover how the platform supports your daily successes as you engage with diverse audiences.
Google presents: Student perspectives on the value of education
Monday, July 18, 1–1:50 p.m. 
Students are paying close attention to the value of education — whether it's to get a credential, land a job or simply understand how the world works. In order to meet their learning needs, we need to identify what they care about and what success looks like for them. Join the Google Education team as they share insights from their study with Ipsos uncovering the preferences, expectations and motivations of students today.
"Mau" with Bruce Mau: movie premier and Q&A session
Thursday, July 21, 9–10:50 a.m.
Meet Bruce Mau himself at the premier of "Mau," the first-ever, feature-length documentary about his legacy as a design visionary. The film explores the untold story of his unlikely rise in the creative world and ever-optimistic push to expand the boundaries of design. We tell the story of his incredible career — from Mecca to MOMA, from Guatemala to Coca-Cola, and his most important project yet: his own life.
Messaging is key: A conversation with Cheryl Boone Isaacs
Thursday, July 21, 12–12:50 p.m.
Join Cheryl Boone Isaacs, a seasoned veteran in film marketing and public relations and former president of the Academy of Motion Picture Arts and Sciences, for a fireside chat. In this session, you'll learn:
How to listen to and acknowledge alternative perspectives.
How to restructure your message in a way that doesn't alienate your audience.
If your plans change and you are not able to attend an in-person day, please update your agenda so someone else might attend.

2. Install the ASU Special Events mobile app
Camp … there's an app for it! Once you've downloaded and installed the ASU Special Events app on your smartphone, tap the event titled "Marketing Academy Summer Camp 2022."
Your login credentials are the ones you registered with:
Username (ASURITE ID)
Password (Last name)
In the app, you can: 
Customize your profile with your photo, status and interests.
See your agenda (and browse the full camp schedule).
Add sessions to your Outlook, Google or Apple calendar. 
Read about the speakers and see who's attending.
And more!
3. Join the conversation in Slack
In the ASU Marketing and Communications Slack workspace, tune in to the #general channel each day for camp updates and fun, interactive discussions with fellow campers and the community. 
4. Watch your email inbox
You'll receive emails for each day you are registered for — a daily agenda email with session details and a daily wrap-up email including a survey link. 
Heads up: We've hidden something special at the end of each survey as a reward for sharing your thoughts. 🎁 
 
5. Update your Zoom
Attending a virtual day? Don't let technical difficulties hinder your virtual experience. 
Open Zoom and check that you are running the latest version. If not, update it now so you can attend virtual camp sessions stress-free. 
Plus, get in the camp spirit with these Zoom backgrounds. 
6. Plan your commute 
If you're attending camp in person, save time to travel, park and check in by 8:45 a.m. There will be complimentary refreshments before programming starts promptly at 9 a.m. Lunch is provided on both days.  
Tuesday, July 19
Thursday, July 21
Space is limited on in-person days. If you register, we ask that you make your best effort to attend.
7. Show up, ask questions and have fun!
Camp is a community effort and you're a big part of it. Take this opportunity to branch out, share your ideas and connect with individuals who share your passion for doing good work and advancing the university.